Welcome to Laddaw®
Established in 1975, Laddaw® is built around its customers. Our goal is to respond to our customers' needs as quickly and effectively as possible. Their ever-changing requirements are the driving force behind the development of all our products, technologies and support services. Through our purpose-built distribution centre we offer our customers access to a great range of products. If we don't have it, we can source it…

Every day there are over 15,000 products handled across the company's network of eighteen branches and main distribution centre near Coalville in Leicestershire.

Our UK-wide network, together with our branch in Dublin, allows the company to supply the highest quality products and service that customers need in order to provide the best possible service to their own customers.

Part of the Belron Group, the world's leading vehicle repair & replacement glass company, we're committed to world-class product quality and service standards. Our policy is only to source glass from the same suppliers as used by the world's car manufacturers for original production.
Laddaw®: a brief history
The company started in Bedford where it remained for over 29 years and, in May 2004, it moved into a new head-office and distribution centre in Bardon, near Coalville in Leicestershire. The move to this custom-designed distribution centre represented a new beginning for the company.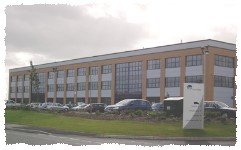 The new distribution centre (DC) houses the widest range of automotive glass and related accessories in Europe. This flagship site offers our customers an unprecedented range of products with high service levels.
Of particular interest to our customers is our branch network across the UK and Ireland – each branch is run by friendly dedicated professionals committed to excellent customer service, providing the customer with what they need, when they need it.
We don't only provide a service to the vehicle glass replacement specialists we have also established a specialist section catering for the needs of the agricultural and heavy plant glaziers.